How volunteering in Cambodia helped me switch career to the nonprofit sector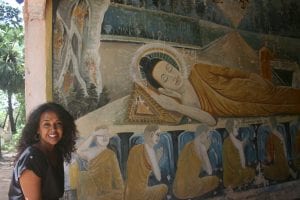 Rubina Jacob embodies the ideal Professionals doing good volunteer's profile. She came to Cambodia armed with more than eight years' experience working with corporates as a business analyst, five years as a writer and communication strategist, international experience in Canada and India and a sincere passion about social and charitable causes.
She arrived in Cambodia in the midst of the rainy season, while Siem Reap got flooded first time in four years, has volunteered for three months for a socially responsible organization as a Marketing and Communications Manager and ended up with finding a paid job for a charitable organization in Phnom Penh.
We met with Rubina to hear about her personal and professional journey as a professional volunteer in Cambodia.
Rubina, what inspired you to volunteer in the first place?
I have had a deep desire to work in South East Asia, after visiting 3 years ago. I narrowed down on Cambodia, as I felt most drawn. To get to know the country better and its professional landscape I thought, the best way to do so was volunteering my professional services for a set period of time. I was making this jump, a risk for many, and I wanted to make sure if this move was right. And I am happy I did.
What was your role?
Marketing and Communications Professional
What's been the most rewarding part of your volunteering project?
Professionals doing good placed me with an organization where my skills were best utilized. Rewarding! Where do I begin, I had an opportunity to get to know local Cambodian (colleagues), learnt to share processes, discovered how companies in Cambodia work, but what I feel was the biggest takeaway – I know I made a difference, that I was valued. Something I would hesitate to say in my 13 years as a corporate professional. Also, I did not have to make any drastic changes on how things worked, I just helped tweak it.
Did you encounter anything unexpected in your volunteer work?
Yes, I ate fish head during a staff lunch
What was it like living in Cambodia?
I was given a detailed debrief before I came. Yes, the anticipation of not finding a place to stay weighed heavy, but once call to Professionals doing good office sorted that out. I got sick on day 2 of my job, and my host organization told me where to go and what to do. "Cambodia has a lot to offer – all I can say to future volunteers is be open-minded, be kind, treat people how you would like to be treated. Also, remember this is not the first world, things happen at its own pace, embrace that instead of being critical.
What would be your advice for future professional volunteers?
The biggest advice I would give future volunteers is don't come to volunteer in Cambodia wearing tinted glasses. You are not a messiah, to save the third world, in other words, don't be patronizing. Come here, see how the organization works, and try and help the best you can. Adapting best practices that you have learnt in your professional career with what can be adapted to your host organization.
Take this experience as a professional assignment, not as a part-time gig.  Be professional, and be respectful of your host organization and Professionals doing good.