Meet Federico Bonatti who volunteered in Cambodia before his new job in Italy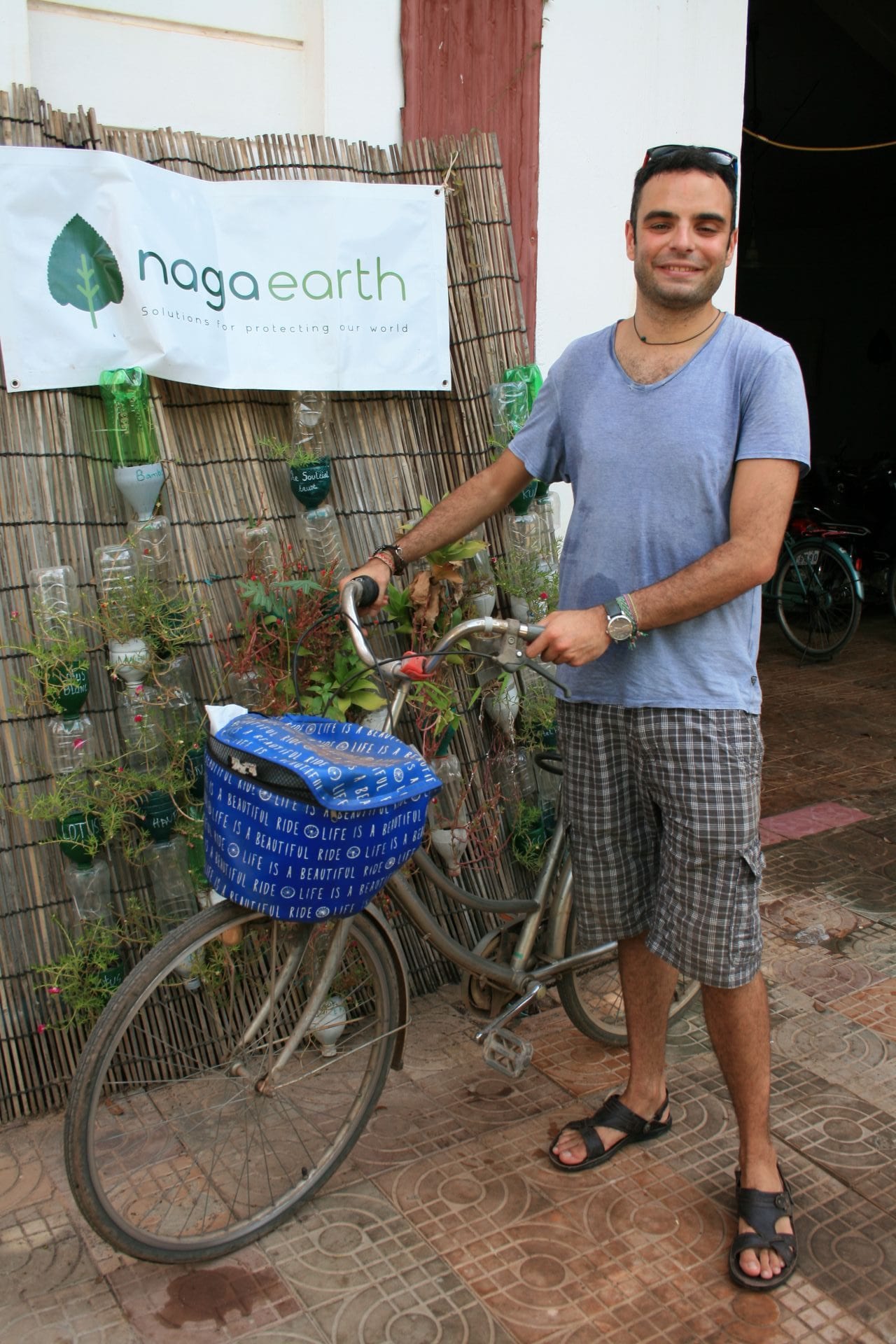 Federico Bonatti, a mid-level professional with a background in Mechanical Engineering and Management, has had the opportunity to study and work in Italy, Spain, and China. However, after negotiating with his new employer to have 3 months off before he started the new job led him to set aside that time to channel his energy and passion into doing some service work abroad through Professionals doing good. His passion and curiosity to travel led him to volunteer a few weeks in Peru last summer and then settle in Siem Reap for almost 3 months this summer to professionally volunteer for an environmentally friendly social enterprise that produces biodiesel fuel by using used cooking oil from local businesses.
We met with Federico to better gauge his experience as a professional volunteer and what he was able to gain.
What inspired you to volunteer?
I had left my job in Italy last Spring and secured a new consulting job in Milan to begin in September that luckily afforded me a 3 month break before the start date to do some meaningful travel. My old manager put me in touch with Luisa Gentile, the founder of Professionals doing good, when she found out I was looking for volunteer opportunities. Luisa has a very different perspective of volunteering that is more sustainable and long-term impact based rather than your typical 'volunteer with disadvantaged kids' style of service volunteering. Getting in touch with Luisa made me realize I wanted to try professional volunteering and she matched me up with Naga Earth.
I also had the curiosity and desire to learn more about different environments and to grow myself not only personally, but also professionally. This is the great value of Professionals doing : it really allows you to grow in both ways. Last, but not least, I was willing to experience how life in SE Asia is. Indeed, this is a place which I would definitely consider to move, maybe in 20 years from now.
What kind of impact does your host organization have on the local community?
My host organization, Naga Earth, is the only one producing biofuel in Cambodia so we are making sizeable difference that way. It is the core activity of what they do and the biodiesel we produce is substantially greener than the conventional ones. Also, we avoid oil being dangerously disposed in the environment or re-sold and used again which is hazardous to the population and to restaurant customers if they consume it. Also, we produce glycerin which is used for producing soap that we hope to give away in exchange for used cooking oil and to maybe sell in the future. Naga Earth really puts out awareness concerning environmentalism and waste and speaking about it here in Cambodia is really beneficial and the education is definitely needed. They offer workshops about 12 times a month to hotels on how to be more sustainable and we also offer them to schools as well. It is really important to increase awareness on the dire environmental factors affecting Cambodia today.
What was your role?
At Naga Earth, I was able to work flexibly and help develop the organization. We mainly focused on designing a plan to steadily increase our revenues over the time, in order to make Naga Earth a strong and sustainable organization even in the long run.
First of all, we completely re-designed the value proposition for our oil donors, focusing more on what Naga Earth can give to their businesses, rather than asking an help for a "good cause". Indeed, increasing used cooking oil donations is a very critical factor for us in order to be able to further increase our soap and biodiesel production.
Moreover, we study all of our oil donors, in order to create a premium service model for the top 10% main donors who donate most of the oil.
Last, but not least, we came out with a plan for start selling the soap we produce, in order to guarantee an additional and stable source of revenues.
What's been the most rewarding part of your work?
Four aspects have been very rewarding for me:
First of all, the great collaboration I have had with Tim Waterfield, the CEO and founder of Naga Earth. I think we worked together very well, and our collaboration has been a very critical factor for the success of our work. I was expecting a major issue to be to bring and to keep him on board. Vice versa, we have always navigated side by side, and this has been great.
Secondly, I am very satisfied by the impact that our work has had on Naga Earth's activities. The marketing material has been immediately re-design according to the new value proposition, while the activities related to soap selling also started before my departure. Overall, many things have changed in just a few weeks. Coming from big corporations, where things move much slower, this surprised me quite a lot, and it gave me a great satisfaction.
Furthermore, I am very glad for all the coaching I received from Luisa: her experience and her suggestions have been essential for me, in order to succeed in my job. She has really taught me so much.
Overall, I have to say that I really learnt a lot from all of these. As I often say, it has almost been like following a small MBA (Master in Business Administration).
Last, but not least, I learnt a lot from all the people I met here, both Khmer, and expats. I'll return to Italy extraordinarily enriched, and I will always carry this country, its culture, customs and its smart people inside of my heart.
Did you encounter anything unexpected in your volunteer work?
First of all, I wasn't expecting to do so much high impact activities. I think this is the greatest added value of coming in as a professional volunteer, doing things related to my skills and professionality, instead of just "doing something" in a random way.
Furthermore, I was surprised by the different kind of difficulties that a business might face here in Cambodia. Sourcing is always a very challenging issue, even for those materials which would be very common elsewhere (as the plastic dispensers for our soap, for example).
Also, finding specific technical competences is a great challenge here, and it sometimes requires a bit of flexibility in order to succeed in finding the right person for the right task. This has happened, for example, while looking for a soap expert who might help us in improving our soap.
What was it like living in Cambodia?
I found my accommodation at a guesthouse through Luisa's connections. It had a nice pool and was at a fair price. I was able to make friends socially by going out and become friends with other volunteers. I spent my free weekends traveling and exploring Cambodia like going to floating villages and also Siem Reap offered a lot of cool and interesting events and functions to attend.
What would be your advice for future professional volunteers?
Be open, flexible, and try to meet as many people as possible, both local and expats. Also, when volunteering professionally it is more like a normal job so the person has to be ready to give their all and to treat it as such. Compared to the usual volunteering, it's a different style of doing things as it is more professional. Also, try and meet with as many people as possible and make connections. Looking back, I would not have done anything differently and time moves so fast so it's important to use your time off to explore the city and its people, to learn as much as you can, and to maybe also to travel around, as I did to Phnom Penh, Sihanoukville and Kuala Lumpur.
If you'd like to have a unique experience while making a difference in the local community in Cambodia like Federico did, contact Professionals doing good for more information at [email protected]
If you find this article interesting, please share it with others and help us spread the word about Professionals doing good!