From France to fair-trade in Cambodia: Channeling passion into social impact
Meet Eva Yulzari and read about her experience as a professional volunteer in Siem Reap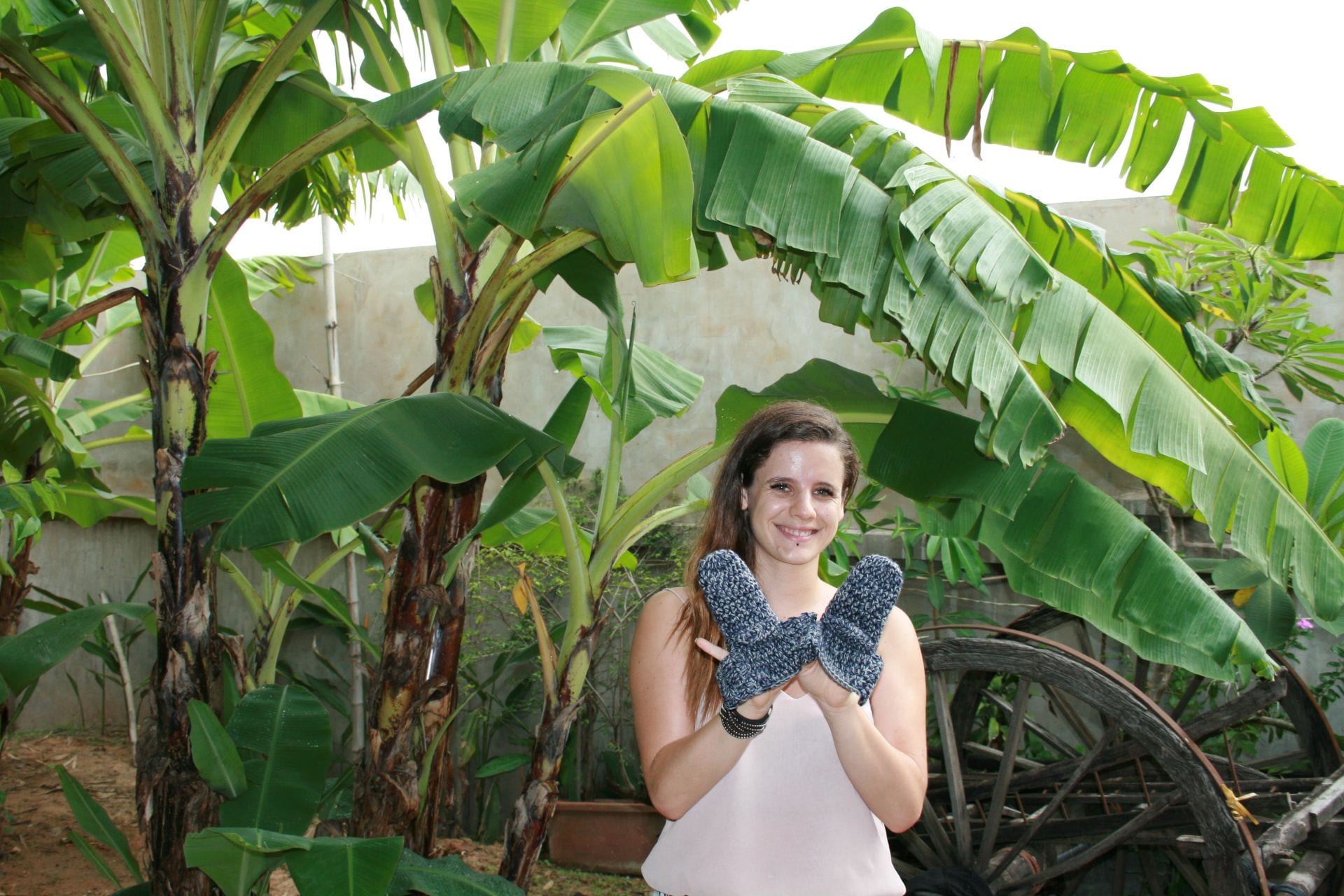 With a BA in management, experience in after-sale service, purchase and logistics for a French fashion company, and a Masters degree in Economic Development underway, Eva Yulzari may be young but she knows a thing or two about what keeps her motivated.
Her passion for fair-trade and sustainable business models did not stop her from taking the big leap from France to Cambodia to do meaningful volunteer work, or as Eva put it –her "dream volunteering job".
As Professional doing good's first official volunteer we helped channel her passion, energy and expertise and matched it with a start-up social manufacturer in Siem Reap in need of a qualified assistant to the founder and director.
We sat down with Eva to learn more about her work and what inspires her to serve.
What inspired you to volunteer?
While studying for my Masters, I was searching for volunteer or internship positions overseas that were eco-friendly and ethically responsible. Luckily, my path crossed online with Luisa Gentile, the founder of Professionals doing good. She was able to put me in touch with the founder of a start-up ethical apparel design company in Cambodia that makes a real impact in the lives of the local community. This was exactly what I had been looking for and I wanted to travel Cambodia so it was a perfect fit. Professionals doing good was able to match my needs and expertise and within a couple of month I found myself in Siem Reap.
What was your role ?
The original position was to be an assistant to the director and work on things like accounting and administration but I ended up doing so much more like personally coaching the local women working there. Even though my role was never to be around the actual product, I had the idea of using scrap leather and string to make earrings so it could be as zero-waste as possible. I taught myself how to make leather-based jewelry from YouTube and Pinterest and I hope in the future we could sell them or include them as small gifts to repeat customers. I hope my idea for that can be carried on by other volunteers and employees in the future so we can cut down on waste and make something beautiful out of 'trash!'
What's been the most rewarding part of your work?
While my tasks included communications work and accounting, an impact I think I made on a lower level was teaching the 5 local women employees about how to take care of themselves and learn more about their bodies. This was important because as a socially conscious organization, it is in the founder's best interest to make sure her employees are well taken care of and health conscious. "I know it feels like a small contribution but many of the women lacked knowledge about their bodies and how to stay healthy so I presented a PowerPoint in order to teach them about keeping healthy. I think I made an impact and they took away something valuable. After all, it's all women working there and we are all about empowering women at work."
I also used my expertise in accounting and business management to facilitate and roadmap the organization's journey to becoming fair-trade certified by establishing employee handbooks and making sure they met certain qualifications. "The host organization is all about responsible corporate management and we want our employees to feel good at work and feel like it's a democracy and that they have a voice and a say."
What's been the most difficult part of your work?
I challenged myself personally and professionally working here, though I had the needed skills, the founder didn't have much time to train me so I figured a lot of that out by myself. That meant that I had a lot of personal responsibility for my work. From the very beginning, I got to do projects by myself and figured a lot out on my own. I was very self-managed, for instance, I wrote the code of conduct by myself and researched online if I needed help. I also helped develop their marketing strategy and figured out how to connect with people on Facebook in the best way possible. That was something I had little experience in but learned and managed to do it anyways.
What have you learned through your experiences as a volunteer?
Cambodia really let's you discover more yourself and working in a place like this gives you responsibility and you're able to be involved in the issues and feel like you're making an impact quickly. I want to go back to France and tell other French post-grads or those in-between jobs to not be afraid to go abroad to work and discover more things and push themselves to give back by volunteering abroad like this. Cambodia is not dangerous like some think! I'd even encourage someone to come and volunteer at my organization again.
What was it like living in Cambodia ?
Living in Cambodia is not as difficult as some might think, everything you need or want can be found here. The first few weeks I really wanted some quiet, alone time to decompress and settle in. That time in this beautiful landscape was just what I needed before I started the volunteering position. I found a room at a quiet, affordable guesthouse in a nice area with a pool. I bought a motorbike and was easily able to travel around town and get to where I wanted to go as it's a small place. Working 5 days a week was perfect for me because I needed that valuable experience to help me later on in my career. Also, our office is in a beautiful wooden house and has such a friendly atmosphere where everyone there has a voice; it is very relaxed. Also, the founder is almost like a mother-figure in that she cares a lot and loves to take care of people. She really made it easy to settle in at the organization and also we would spend time together outside of working and go for a drink or food and I was introduced to her friends as well.
There is a large French community here so I was able to connect and make friends with other French expats and other volunteers working with PDG. As far as traveling, Siem Reap has so many amazing things to do and I was able to travel to the temples and Phnom Penh. After my volunteering is finished, my family will come visit and we are traveling around the coast and islands for 10 days, I can't wait to relax and show them more of this country.
What would be your advice for future professional volunteers ?
I think it is really important to be flexible, open-minded and adaptable enough to handle different situations. I have been travelling internationally since I was 9 so I enjoyed the challenge and didn't mind traveling alone. Also, don't be afraid to have the initiative to take the lead on something, as that is often welcome even if you don't think so!
If you'd like to have a unique experience while making a difference in the local community in Cambodia like Eva did, contact Professionals doing good for more information at [email protected]
If you find this article interesting, please share it with others and help us spread the word about Professionals doing good!