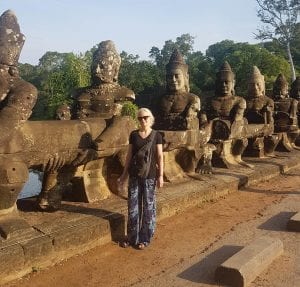 Charlotte was one of the earliest volunteers for Professionals doing good, and though she only stayed in Cambodia for a relatively short period of time, she is still currently an invaluable part of the Pdg team. We had a chat with Charlotte about her passion for volunteering and her impressions of Cambodia.
Hi Charlotte, let's start with you telling us a bit about your background.
After starting as an administrator at a facilities company in the UK, I very soon became interested in communicating with employees and making change happen in businesses. I joined my first big corporate, Vodafone, in 2006 in an internal communications role and then moved on to work for other large businesses including O2 and Virgin Media.
All of those businesses have offered opportunities to volunteer through corporate schemes and I've always taken part. At Vodafone, I also spent some time working in the CSR (corporate social responsibility) team, which allowed me to set up and create a long term strategic partnership with one of the largest volunteer-led organisations in the world, the Scouts.
Why did you decide to start volunteering, and how did you get started volunteering with Professionals doing good?
I believe everyone gets value out of giving back and helping others. I have some amazing friends who either work for or who have set up charities, so I've always been close to the positive benefits volunteering can bring.
Luisa and I used to work together at Vodafone and we've always stayed in touch. When Professionals doing good was set up, Luisa and I had a conversation about what I could do to help. I have a pretty large network and my experience in both security culture and CSR means I can support Luisa with both stakeholder engagement and building the reputation of Pdg across the UK, with the ultimate aim to provide enough supporters and volunteers.
Did your experience in Cambodia differ from your expectations?
I'd had quite a few chats with Luisa before I came over and had conducted a lot of research myself, so I would say my experience wasn't too different from my expectations. Having someone there to answer any questions I had meant I felt pretty prepared and knew what was happening.
Like many people, I've spent decades in the corporate jungle and I wanted to find a way to chill out, reconnect with something simpler and more meaningful, and see life from a different perspective.
What did you learn from your experience in Cambodia?
Before I came over, I'd already been doing a lot of reading about the lack of connection in today's modern western society and how we've created an environment where we are always seeking 'more'. I already knew that Cambodia and its people, who live life so much more simply, would give me new insight and a better understanding into what I could do to change my own life for the better. The people there, despite having nothing, are by far happier and more fulfilled than anyone you see with a career in the UK. Everyone I met was smiling and friendly, and they were all spending time with their families and friends as much as possible rather than working, which was the polar opposite to the UK.
I was surprised by the lack of knowledge and education in the country around conservation and animal welfare and spent time with organisations trying to tackle both of these issues. I really struggled when I saw locals, who seemed so caring, litter their streets and waterways and mistreat animals. I will definitely stay close to these causes now that I'm back in the UK and will do what I can to help. I even managed to rescue and reunite a stray cat with her owner while I was over there!
What are some advices you have for people who are considering volunteering in Cambodia?
Just spend some time reading up on the country, what it has been through and the challenges it faces before you go. Go with an open mind and a happy mindset and you'll meet locals and make friends very quickly. You need to make this journey your own and truly use your professional skills to make a difference.
Given the pace and development of the country, you do need to be patient, but you also have the ability to bring a different viewpoint and make change happen. Be flexible and do your best to immerse yourself into the culture, as you'll find many more opportunities to help outside of your official 'role'. Even if you are only there for a couple of months, do everything you can to build your network as you'll meet some amazing people and have the chance to get involved in as little or as much as you want.
If you'd like to have a unique experience while making a difference like Charlotte did, contact Professionals doing good for more information at [email protected].
If you find this article interesting, please share it with others and help us spread the word about Professionals doing good!