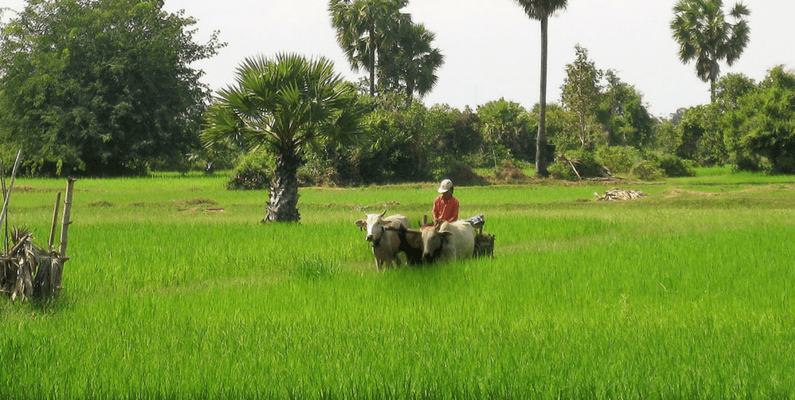 Cambodia, The Kingdom of Wonder, is a safe place to live, work and volunteer as long as you follow sensible precautions and stay alert.
"How safe is Cambodia?" is a question often asked by visitors, travellers and international volunteers. Most expats like us, who have been living and working in the Kingdom, agree that Cambodia is a safe place, perhaps even safer than the big cities back home.
The Travel Advisory Level issued by the US Department of State has assigned Cambodia the lowest (meaning the safest) score : "1 out of 4 – Exercise Normal Precaution".
"Cambodia overall, exercise normal safety precautions, common sense and look out for suspicious behaviour, as you would in Australia" is the travel advice provided by the Australian Department of Foreigner affairs .
Cambodians are warm, open, friendly, and appreciative of tourists and, of course, the economic benefits. You just have to be aware of potential threats and take precautions to keep yourself safe from those elements who will take advantage of the less-aware traveller.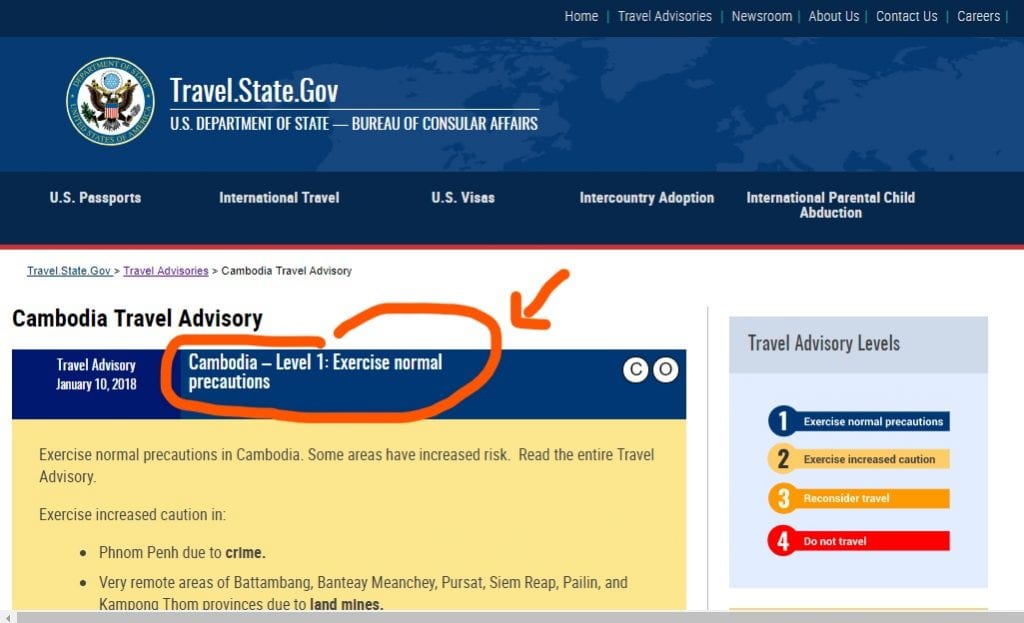 Crime in Cambodia
Although most visits to Cambodia are trouble-free, there are crimes that occur, just like any other country in the world. The most common type of theft is the "snatch and grab" type of robbery committed by thieves riding past on motorbikes, particularly in areas frequented by tourists and expatriates. These areas include Siem Reap, the riverfront area of Phnom Penh and at isolated beaches in Sihanoukville.
Remember to exercise caution and…
minimise the items you carry with you
keep belongings out of sight, particularly if you're travelling via tuk tuk or walking along the street
make yourself less of a target by carrying bags on the shoulder that is farther from the road
avoid using your smartphones in public as much as possible, as they're a popular target
be particularly vigilant while travelling at night by bicycle or motorcycle, especially if you're alone
avoid placing bags in the front basket of bicycles
do not physically resist any robbery attempt
Female travellers in Cambodia
Cambodians are friendly, but you should be wary if a Cambodian or other foreign national befriends you quickly and invites you to their home or hotel on the pretext of meeting their family.
In 2017, there have been incidents of female travellers being sexually assaulted in Siem Reap and Sihanoukville. This includes incidents of lone women being sexually assaulted by men claiming to be motorbike taxi drivers in the Pub Street area of Siem Reap. You should be vigilant at all times, especially when walking alone at night.
Cambodia Festival Warning
In the run-ups to major festivals such as Pchum Ben and Khmer New Year, there is a significant increase in the number of robberies, particularly in Phnom Penh and Siem Reap. Cambodians need money to buy gifts for relatives or to pay off debts, and for some individuals, theft is the quickest way to get this money.
Be more alert at night during these times. Guard your smartphone vigilantly and don't take valuables out with you unnecessarily.
Mines in Cambodia
Cambodia remains heavily affected by landmines and unexploded ordnance from the American bombing campaign of the early 1970s.
The most heavily mined part of the country is along the Thai border area, but mines are a problem in much of Cambodia.
In short, don't stray off main routes in rural areas, including areas around temple complexes and don't pick up metal objects.
Road travel in Cambodia
Cambodia has one of the highest rates of road traffic accidents in the region due to poor vehicle and driver safety standards. You'll need a Cambodian driving licence to drive a vehicle, including a motorcycle. Driving or riding a motorbike without a licence may invalidate your travel insurance in the event of an accident.
Scams in Cambodia
Most scams are fairly harmless, involving a bit of commission here and there for tuk tuk or moto (unmarked motorcycle taxi) drivers. Beggars in places such as Phnom Penh and Siem Reap may ask for milk powder for an infant in their arms. Some foreigners succumb to the urge to help, but the beggars usually request the most expensive milk formula available and return it to the shop to split the proceeds after the handover.
Terrorism threats in Cambodia
Cambodia has a low risk of terrorism threat to foreigners, as it is a peaceful Buddhist country. You should, of course, avoid public political gatherings where emotions can run high.
Overall, the Kingdom isn't dangerous as long as you follow sensible precautions and stay alert. We also always recommend you take out a comprehensive travel insurance—including medical coverage and evacuation service—and read the latest Government Travel Advice prior to your departure.
Government Travel Advice
Australian Department of Foreign Affairs
Canadian Government
New Zealand Ministry of Foreign Affairs
UK Foreign Office
US Department of State
Online sources
Lonely Planet
Trip Advisor
Move to Cambodia
Volunteer in Cambodia with Professionals doing good